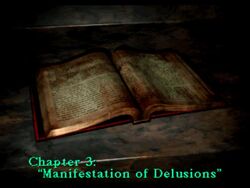 For the graffiti found in the bathroom, see Leonard Rhine, "The Monster Lurks".
For the version of this memo found in Silent Hill: Origins, see Manifestations of Delusions (Origins).
"The Monster Lurks" is a book found by Harry Mason in the library reserve of Midwich Elementary School. The book contains the excerpt "Manifestation of Delusions".[1]
Guide
The book is sitting open on a shelf in the 2F library reserve.
In order to read the book, the player must find the writing on the wall in the first floor boys' bathroom. Otherwise, Harry will comment that there are "no useful books" while trying to examine it.
Transcript
What's this?
"The Monster Lurks" is the book's title.

Chapter 3:
"Manifestation of Delusions"
...Poltergeists are among these. Negative emotions, like fear, worry or stress manifest into external energy with physical effects. Nightmares have, in some cases, been shown to trigger them. However, such phenomena do not appear to happen to just anyone. Although it's not clear why, adolescents, especially girls, are prone to such occurrences.

What is this...?
The title of the book is... "A Monster Lies Dormant".

◊ Chapter 3: Manifestation of Delusions
Likewise, poltergeists are also thought to be in this category. Negative emotions, such as severe anxiety, fear, and stress, are able to manifest as external energy with physical effects. It has even been confirmed to occur during sleep in some cases, seemingly triggered by nightmares. This phenomena, however, cannot be manifested by most people. These abilities are largely innate and occur most commonly in adolescent children, especially young girls.
これは……?
"潜在する怪物"……本の題名だったのか

◊第三章:妄想の顕在化
また、ポルターガイストも、その一種と考えられている。極度の不安、恐怖、ストレス等のネガティブな感情が、物理作用を持つ外部的なエネルギーとして発露するのだ。睡眠中に悪夢が引き金となって起こったと思われるケースも確認されている。しかし、これらの事象は誰にでも起こり得るものではない。生来の素養が大きく関わっているが、思春期の少年少女、とりわけ少女の身の回りで起こる場合が多い。

Analysis
The book appears to be used as a red herring, pointing the player toward Cheryl Mason. However, the book is a more accurate portrayal of Alessa Gillespie, who has yet to be introduced at the time of the book's discovery. Alessa is able to manifest the monsters from her nightmares as a result of her agitated state of mind.[2]
References
Gallery