Description
"Safety Flashlight"
Location
Hunting Lodge Drawer
Appearances
Silent Hill: Shattered Memories
A Broken Ward is a memento that can be found in Silent Hill: Shattered Memories. Harry Mason can find it in the hunting lodge inside a drawer.
It is a broken pink flashlight with the words "Safety Flashlight" written on the side.
Symbolism
This item could refer to anti-rape wards. Flashlights and whistles have been used for this purpose. It may refer to it not working, hence "broken", since there are clothes strewn about and a bloody sleeping bag lying outside in the snow. It could also refer to Cheryl Mason feeling a lack of protection without Harry.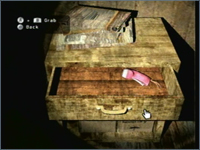 Community content is available under
CC-BY-SA
unless otherwise noted.