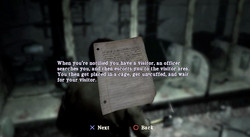 A Note from Dave is a memo from Silent Hill: Homecoming found inside the Overlook Penitentiary. The note is found in the Visitor's Office on the first floor and details the process of seeing a visitor.
Transcript
When you're notified you have a visitor, an officer searches you, and then escorts you to the visitor area. You then get placed in a cage, get un-cuffed, and wait for your visitor. For the right amount, officers will let visitors bring things in. It's against the rules, of course, but even high ranking officers do it... I mean, who's gonna stop them? After the visit is over, they strip you, search you, and let you get dressed. Then you get cuffed and escorted back to your cage. Seeing friends and family is the only thing that gives us hope. Dad, I hope you visit soon. Until next time,

- Dave
Community content is available under
CC-BY-SA
unless otherwise noted.