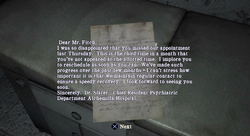 A Note From Dr. Slater is a memo found in Silent Hill: Homecoming. It can be found in Dr. Fitch's office, where it is resting on the exam table. The note is from Dr. Slater, the head of psychiatry at Alchemilla Hospital, and points to the degeneration of Fitch's mental state after the "disappearance" of his daughter Scarlet.
Transcript
Dear Mr. Fitch,
I was so disappointed that you missed our appointment last Thursday. This is the third time in a month that you've not appeared at the allotted time. I implore you to reschedule as soon as you can. We've made such progress over the past few months - I can't stress how important it is that we maintain regular contact to ensure a speedy recovery. I look forward to seeing you soon.
Sincerely. Dr. Slater – Chief Resident, Psychiatric Department, Alchemilla Hospital.
Community content is available under
CC-BY-SA
unless otherwise noted.