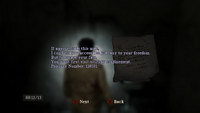 A Note from Prisoner 110391- is a memo from Silent Hill: Homecoming found in Cell A12 of Overlook Penitentiary. The note provides the code needed to activate the keypad lock next to the door that leads to Solitary Confinement.
Transcript
If anyone finds this note, I can help you access the gateway to your freedom.
But to escape your fate, you must first visit solitary confinement.
Prisoner Number: 110391-