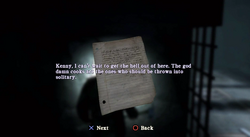 A Note from Bryan is a memo from Silent Hill: Homecoming found in Cell A5 in the Overlook Penitentiary. The note is written by a prisoner named Bryan, addressed to Kenny.
Transcript
Kenny, I can't wait to get the hell out of here. The god damn cooks are the ones who should be thrown into solitary. In order to eat, you've gotta have your light on, before the officer will put food on your tray. They make you kneel against the back wall when they're dishing it out... otherwise you get nothin. Then the officer closes the window and you can eat your food, but then as soon as you get started they come back to pick-up the trays. The meals are never fully cooked, and sometimes the food is still cold in the middle. Also, they give you less than what a grown man would normally eat. I've seen the officers scrape most of it on the ground to make the tray lighter. We get juice, but it's watered down, to be just like the food - tasteless. The first thing I'm gonna do when I get out is eat a god damn cheeseburger.
- Bryan
Community content is available under
CC-BY-SA
unless otherwise noted.