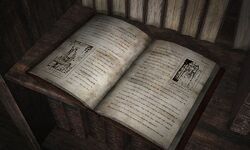 About Tarot is a book found in Silent Hill 3. Heather Mason is able to find it at the chapel's library, alongside another book, Silent Hill's Ancient Gods: A Study of Their Etymology and Evolution. As the name says, it is an explanatory text about tarot.
Transcript
"Tarot was based on the 22 Hebrew
consonants and is said to represent
the entire world.
Each card, numbered 0 through 21,
has a particular meaning.
By reading these cards,
fortunetellers predict the future.
For example, the first card, 'The
Magician', signifies creation, wisdom,
beginnings, or destruction and fraud.
The second card, 'The High Priestess',
denotes intuition, harmony, faith, or
dogmatism and arrogance.
According to some texts, the
Gardner deck had more than 22
cards. (The Gardner deck does not
exist today; it is mentioned only in
the literature.)
It is said that these extra cards were
based on lost Hebrew vowels and
denoted an otherworldly,
transcendental existence: i.e., God."
Puzzle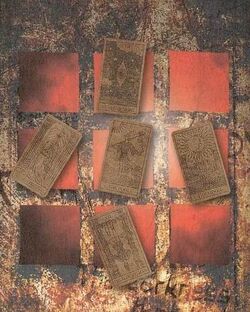 This book about tarot acts as the explanation for the Tarot Card Puzzle and also explicates the existence of the mysterious "Eye of Night" tarot card. In the Book of Lost Memories, the creators of the series also use this principle to assign each tarot card to a character or element of the series.
Tarot
Community content is available under
CC-BY-SA
unless otherwise noted.