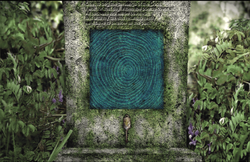 This article is a guide for a Silent Hill 2 puzzle.
The Acacia Key Puzzle is a puzzle in the Born from a Wish scenario in Silent Hill 2.
In the Baldwin Mansion, Maria comes across a small garden after climbing the fireplace in the living room. In the garden is a grave containing an epitaph:
"Along with you died joy.
All that remains is despair and a
future of meaningless tomorrows.
But I will never give up.
One, to see your
beautiful smile again.
One, to beg the
blessings of the Gods.
I wait for that day.
When the boards cover all
All sadness too will be covered
But until my dreams
return to reality
I will have to swallow
all the pain."
The idea of this puzzle is to place the three boards (black, white and red) in the grave. Putting them in the correct position will eliminate the visible blue background.
Solution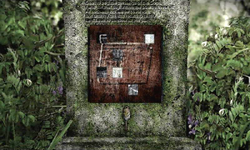 There is more than one solution for this puzzle, but the following is the easiest solution:
Put in the White Board as is

Put in the Black Board as is

Put in the Red Board 90 degrees to the left
For this solution, the red board can't be put in first, as the first board will be as is. It needs to be 90 degrees to the left. So the white or black boards can be put in whenever, and the red board must be second or third.
Another solution for the puzzle is put the red board in first (as is) and the white and black boards 90 degrees to the right.