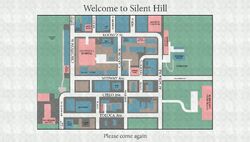 Acadia Rd. is a road in the eastern part of the Central Silent Hill section of Silent Hill, seen in Silent Hill: Origins. Acadia Road connects Toluca Avenue, Cileo Avenue, Midway Avenue, Industry Road and Koontz Street. Acadia Rd. is the location of many businesses which Travis Grady is forced to enter.
Silent Hill: Origins
After speaking with Lisa Garland, who went to Cedar Grove Sanitarium to meet doctor Michael Kaufmann, Travis thinks that he too should check out the sanitarium. To reach Acadia Road, Travis must navigate around the city because many roads are destroyed, blocking direct access. Along the way, he enters the butcher shop and sees an unknown monster killing a Faceless Nurse. After leaving the butcher shop, Travis finally reaches his destination. Later, Travis visits Acadia Road a second time in order to reach Artaud Theater. This time, he is forced to enter Greenfield Apartments to bypass the collapses in the road blocking his path.
Businesses
Cedar Grove Sanitarium
Lutheran Church
Greenfield Apartments
Community content is available under
CC-BY-SA
unless otherwise noted.