The Air Screamer (also known as Avian Monster (Type A)) is a flying enemy appearing in Silent Hill and Silent Hill: Book of Memories.[1]
The Air Screamer is the second enemy that Harry Mason comes into contact with, as one bursts through the cafe window soon after he observes the radio. It is seen before it is actually encountered, flapping past Cafe 5to2's window. The Night Flutter is its Otherworld variant.
Appearance
Its appearance is similar to that of a pteranodon but with the usual characteristics of the series' manifestations: its legs and torso are entirely covered by pale leathery skin and are vaguely humanoid but its elonged head shows two glassy eyes like those of a fish. The creature stands roughly half the height of a human giving it a quite impressive wingspan.
In Silent Hill: Book of Memories, the Air Screamer's head has two sideways jaws rather than resembling to a pteranodon. It has three talon-like toes on each foot.
Character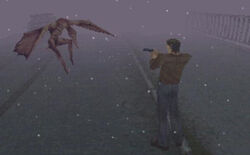 Its name is derived from the high-pitched screeching noises it makes when attacking or attacked. Air Screamers' main danger lies in their mobility: they attack by biting at Harry and slashing at him with their talons.
They're fairly fragile creatures, although landing a blow with a melee weapon is very difficult. As such, firearms are suggested for shooting them out of the air. To conserve ammo, it's recommended to flee from these creatures whenever possible. Listen for flapping wings and/or squawking sounds warning of their approach. If damaged, they may fly away, although they may also circle back and attack Harry from a different angle. To evade their talons, it's a pretty effective method to alter the direction of Harry's course left or right just before they strike and continue running in a zigzag pattern.
Symbolism
The Air Screamer is a manifestation of an illustration in one of Alessa Gillespie's favorite books, The Lost World by Sir Arthur Conan Doyle, which presumably depicted a Pteranodon; but the creature also has the torso and legs of a human.
As well, a latter speculation could also suggest the Pteranodon-like beast can serve a second purpose: its elongated legs (the ancient reptile's were not believed to be as long) and reddish hue is associable to demons, dark icons of many religions who reside in Hell. Their demon-like physique and behavior can be representative of what Silent Hill is: a very hellish town.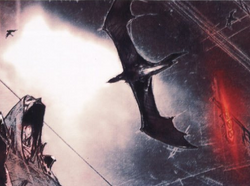 Screamers are seen flying over Ike Isaacs once he arrives in Silent Hill.
Dark Deception: Monsters & Mortals - Silent Hill
The Air Screamers appear as a trap enemy in the crossover expansion pack Dark Deception: Monsters & Mortals - Silent Hill.[2]
Trivia
There is a scene in Stephen King's The Mist where a similar creature attacks the protagonists in a grocery store, similar to how the Air Screamer attacks Harry Mason inside Cafe 5to2.
It is possible to encounter a large flock of Air Screamers on the bridge that leads to Central Silent Hill.
The Air Screamer that breaks inside Cafe5to2 is the only non-boss monster in the first Silent Hill that must be killed in order to proceed the game. Attempting to leave the cafe without killing the creature will result in Harry being unable to leave, saying "I've got to beat that monster!". This is an introduction for the use of weapons.
References
Gallery
Silent Hill
Silent Hill: Play Novel
Silent Hill: Book of Memories
Dark Deception: Monsters & Mortals - Silent Hill
Community content is available under
CC-BY-SA
unless otherwise noted.