Fire Emblem Warriors: Three Hopes - The Loop
Play Sound
Alchemilla Hospital, also known as Alchemilla General Hospital and later Alchemilla Hospital: Asylum for the Mentally Ill, is a medical center in Silent Hill in Central Silent Hill located on Koontz Street. It is the oldest hospital in the town, according to the PAL manual for the first game.[1]
Alchemilla Hospital is intended more for physical medicine and general operations, while Brookhaven Hospital and Cedar Grove Sanitarium are specifically geared towards mental health patients.
First introduced in Silent Hill, Alchemilla has been revisited in Play Novel: Silent Hill and Silent Hill: Origins. It was also reimagined as a mental institution in Silent Hill: Homecoming and redesigned as a more modern hospital in Silent Hill: Shattered Memories.
In the main Silent Hill canon, Alessa Gillespie was taken here after her mother, Dahlia Gillespie, attempted to use her in a ritual by setting fire to their home with Alessa still inside. Alessa was kept in a room deep inside of the hospital's basement for seven years; all of the nurses, excluding Lisa Garland, were under strict orders to never enter the basement.
Design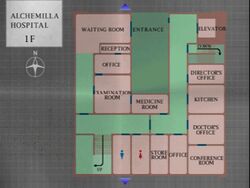 Although the designs of the hospital remained fairly similar, there have been some noticeable inclusions and exclusions in the layout of the building.
Alchemilla Hospital is presented as an emergency department in Silent Hill, Silent Hill: Origins​, Silent Hill: Homecoming, and Silent Hill: Shattered Memories. The floor design remains relatively consistent throughout the series canon with variations occurring within Origins and Homecoming, including the introduction of an Operating Theater, presumably for instructional purposes, as well as relocating the store rooms that have been located near the restrooms across all three titles it appears in. However, it is possible that the real world Alchemilla Hospital has not changed since Silent Hill, as Alex Shepherd only dreamed of visiting it in Homecoming.
Common to all games are multiple operating rooms, nurse stations, intensive care units, and public restrooms. Also plentiful are patient rooms, though what these rooms contain changes to fit each game.
Unique to Silent Hill is access to all three floors of the hospital, a fourth floor in the Otherworld and the basement. Within Silent Hill: Origins, access to the third floor and basement has been restricted due to maintenance and construction, while in Homecoming only the second and third floors are accessible.
Silent Hill: Origins
This is the first time Alchemilla is explored chronologically. Upon waking in Silent Hill, Travis Grady makes his way to Alchemilla Hospital, where he inquires Dr. Michael Kaufmann about a girl he saved earlier from a house fire. Kaufmann denies any such patient is in his care. Despite this, Travis resolves to find out for himself what happened to her.
Coming upon a rather large mirror after speaking with the doctor, Travis is drawn into an Otherworld version of the hospital by Alessa's spectral figure. Fighting his way through demonic nurses, he defeats a monster and receives the first piece of the Flauros, and then he briefly encounters Alessa again.
Travis returns to the "real" hospital, where he is told by trainee nurse Lisa Garland that Alessa died from her burns.
Travis briefly revisits Alchemilla near the end of the game after piecing together the Flauros.
Silent Hill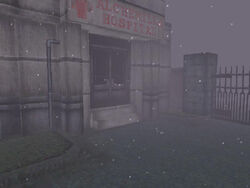 During his journey through the hospital, Harry Mason, the protagonist of the game, makes his way here on the advice of Dahlia. Within, he briefly meets Michael Kaufmann. Harry finds a mysterious red liquid, Aglaophotis, and it is up to the player if Harry takes some with him using a plastic bottle found in the kitchen.
Harry uses an elevator to enter the mysterious fourth floor which shouldn't even exist and explores the Otherworld. In the basement, Harry finds Alessa's sickroom. Harry then encounters a terrified nurse, Lisa Garland. A siren blares and he is transported to the Fog World and he reunites with Dahlia. Dahlia gives him a key for her antique store, and he leaves.
In the Otherworld Central Silent Hill, Harry returns to Alchemilla to speak with Lisa again, and she tells him about the waterworks by Midwich Elementary School. Harry leaves to head there.
At the end of the game, Nowhere takes the form of Alchemilla Hospital.
Silent Hill 3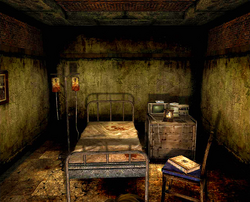 In Silent Hill 3, Heather Mason does not physically visit Alchemilla Hospital; however, inside the Order's church, she discovers a hidden room that resembles Alessa's sickroom. In it, she finds one of the Tarot cards necessary for the game's final puzzle. This manifested apparition of Alessa's sickroom is more of a symbolic reference to Heather's awaking memories, rather than an actual passage to Alessa's sickroom in the hospital.
Silent Hill: Homecoming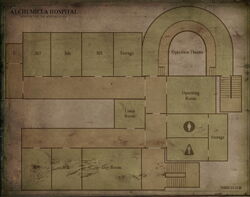 Alex Shepherd is a soldier on his way home. Having seemingly been wounded in action, Alex spent some time in a hospital for treatment.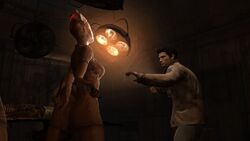 The game opens with a nightmare sequence, involving Alex searching for his brother, Joshua Shepherd, who can be seen running through the corridors of Alchemilla Hospital. He finds a combat knife and encounters the first monster of the game, a Nurse, which provides the player with an opportunity to practice melee combat. Also obtained for the first time are the health drink and first aid kit. While there is no boss battle in this level, the Bogeyman makes his lingering presence known to Alex.
At the beginning of the level, silhouettes are seen committing vile acts on the patients, with each patient representing one of the sacrificed children of Shepherd's Glen (Scarlet Fitch, who is being dismembered; then Nora Holloway, who is being strangled; then Joey Bartlett, who is buried alive). Joshua being there represents the fact that Alex escaped death at the cost of Joshua's life.
During the course of the game, it is made known to the player that Alex was not a wounded soldier, but rather, a mental patient. Although Alchemilla was featured in Alex's dream and is presented as a military hospital/lunatic asylum, it is not known if it is where Alex was institutionalized after the death of his brother. Adam Shepherd would have been against sending Alex to Silent Hill, a town for which he shows disgust.
In the "Hospital" ending, Alex awakens in a mental hospital, possibly Alchemilla, strapped down on a table. He is told by the man standing over him, who sounds suspiciously like Deputy Wheeler, that he needs to take responsibility for his actions and accept the present. The man who stands behind him appears to be Adam. He is then administered an electric shock. This reveals that throughout the game, the patient in Room 206 was in fact Alex.
The reason Alex specifically dreams of Alchemilla Hospital is alluded to in a newspaper article in the Shepherd's Glen Town Hall. When he was eight years old, Alex was involved in an accident that left him trapped in a school bus on the Toluca River during a freak thunderstorm. Alex nearly died of hypothermia but was saved by Dr. Martin Fitch, who came to his aid and kept him warm while fire crews took four hours to free them. It is noted in the article that during the evacuation, children were evacuated to Alchemilla Hospital in Silent Hill to recuperate, and it is presumed that Alex joined them after his rescue.
Silent Hill: Shattered Memories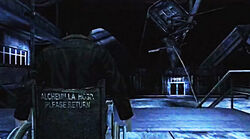 Almost the entirety of gameplay in Alchemilla Hospital takes place in the Ice World. After blacking out, Harry Mason is initially brought to the hospital by Cybil Bennett, who changes his soaked clothes and wheels him about in a wheelchair. The world quickly transitions before she can finish speaking to Harry and becomes horrifically combined with a nearby railway system. Train cars criss-cross through open patches, with some crashed through the walls or even suspended in the air.
After escaping from the Raw Shocks and returning to the real world, Harry meets Lisa Garland, who has crashed either her own car or an ambulance (Psych Profile-dependent) and has suffered a head wound. The two leave the hospital and Harry insists on walking her to her nearby apartment.
Alchemilla also has their own radio station on which the player can request a song by calling 555-881_, with the last digit being the song number they want (0-9).
Trivia
Alchemilla Hospital most likely takes its name from the real-life genus of perennial plants, Alchemilla, also known as "Lady's Mantle". An Alchemilla is a plant in the Rosaceae family and is related to the word "alchemy". The literal meaning of the word is "little magical one", and is feminine. In herbalism, it can be used to ease heavy menstruation and menopause.
The idea of Alchemilla Hospital came from the movie Jacob's Ladder, specifically the sick house scene.
If the notes in Origins are to be believed, the hospital staff are incredibly neglectful of both the hospital and their patients. In response to a plumbing leak and renovation problems, spending on patient care and consultation was cut by 50%, and the note implies that these issues were the result of poor care towards the building. The staff responded to this also by closing off hospital visits and appointments to patients unless they were noticeably near death, yet they still had funds set aside for lavish bar parties.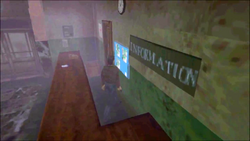 In Silent Hill, the hospital map is easily missed by new players of the game, causing much frustration as upon entering the elevator, they are forced to get through the Otherworld. Because of how similar the rooms are, it is very easily to get lost in. This is an oddity compared to other maps in the series which are more easily findable.
In Silent Hill and Origins, there is a Konami Burger restaurant just west of the hospital.
There is initially no fourth floor in the hospital. This is a reference to the stigma associated with the number four in East Asian culture.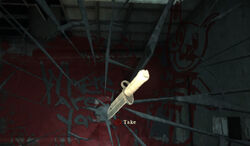 Right before the player obtains the combat knife in Silent Hill: Homecoming, there is a bloodstain on the mirror that reads "Where Are You". Also, Robbie the Rabbit is drawn on the mirror with blood.
When rotated 90 degrees clockwise, the map of Alchemilla Hospital in Silent Hill: Homecoming is more identifiable with previous maps of the hospital.
Gallery
For a complete list of images of Alchemilla Hospital, please visit the Alchemilla images category.
Silent Hill: Origins
Silent Hill
Silent Hill 3
Silent Hill: Homecoming
Silent Hill: Shattered Memories
References