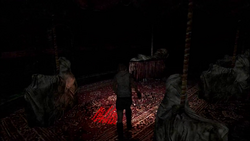 The Alessa Memo is one of the memos found in Silent Hill 3. It appears after Heather Mason defeats the Memory of Alessa on the floor of the Happy Carousel, written in what seems to be blood.
The memo shows that Alessa Gillespie would rather die instead of giving birth to God, since it would bring "endless pain" when it came to the world.
Transcript
"It would be better for 'myself'
to die. After all, it's nothing to
be afraid of...
That child... that demon...
When I think of the endless pain
it will bring when it is birthed...
I decided that, instead of the
suffering and cruelty I endured
in that sick room...
...That I would like to bestow a
more gentle and peaceful death
on 'myself'.
Why do 'I' resist? I never thought
of 'myself' as such a fool..."
Community content is available under
CC-BY-SA
unless otherwise noted.