Alice at the premiere of Silent Hill
Silent Hill films
Silent Hill
Alice Krige is a South African actress best known for playing the Borg Queen in Star Trek: First Contact.
Background
Alice's first film role was in Chariots of Fire, which she filmed at the age of 26. She later played Alma Mobley in Ghost Story. Alice won "Best Supporting Actress" at the Saturn Awards for her role as the Borg Queen in 1997. She then appeared in the horror film Sleepwalkers.
Silent Hill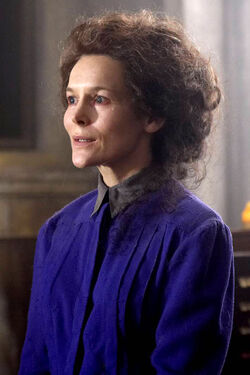 Alice was hired for the 2006 horror Silent Hill by director Christophe Gans, who felt she had the cold, tyrannical look he was looking for to play Christabella. Alice was the last person hired for the project, just two weeks before the start of filming. Alice did not particularly enjoy the role, feeling that her character was too manipulative and evil.[1] To prepare for the role, Alice read books on the Spanish Inquisition.

Trivia
Alice wore blue contacts for Silent Hill, to match the eye color of Deborah Kara Unger and Jodelle Ferland, who played Christabella's relatives.
Ironically, Alice's character Alma Mobley inspired Alma Wade, a character very similar to Silent Hill's Alessa Gillespie.
Alice's personality was so dominant that other actors and extras responded to her commands on the set of Silent Hill.
References
↑
Gallery