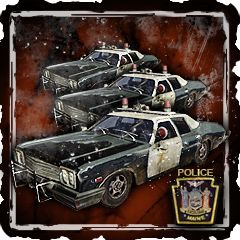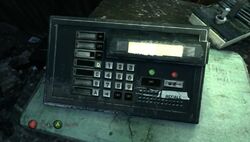 All Points Bulletin is a sidequest in Silent Hill: Downpour. It can be started by approaching one of the several police cars roaming the streets of Silent Hill.
When approaching a police patrol car, the screen will darken momentarily, and Screamers appear, then an objective to stop the police patrols will be added.
Quest Solution
Head to the Hillside Police Station located on the map and when inside, cross the plank. A dispatcher will be located in the main room, and the code for each patrol will be written on a chalkboard. However, one of the digits is erased in each row so one must look at the columns and identify the pattern. Each patrol is identified by a single letter and 3 digits; for example, "A123".
The first column will have the letters A, B, C and D with one missing; the missing letter will complete one row and recall one police car when entered into the machine. The three columns of numbers follow a pattern of plus or minus one, so it is as simple as looking at the columns, filling in the missing numbers and entering the combinations from the rows into the machine. Below is a list of all the patrol car numbers which can be inputted into the machine:
Once all numbers are dispatched, the quest will be completed and the patrols will stop roaming the streets.
Trivia
Completing the sidequest unlocks the achievement/trophy, "Calling All Cars".
Gallery