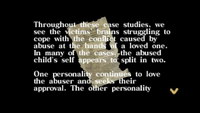 An Id Torn in Two is a torn page Travis Grady finds in Silent Hill: Origins. It is located along with a page on repression and coercion, as well as one on astral projections, in the library scene area of the first floor stage of Artaud Theater's Otherworld.
Transcript
"Throughout these case studies, we

see the victim's brain struggling to

cope with the conflict caused by

abuse at the hands of a loved one.

In many of the cases, the abused

child's self appears to split in two.


One personality continues to love

the abuser and seek their

approval. The other personality

contains all the rage and anger of

the abused and in many ways

becomes a mirror of the abuser,

seeking to inflict its pain on

others. Sadly, it is often this self

that becomes dominant."
Community content is available under
CC-BY-SA
unless otherwise noted.