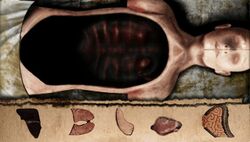 This article is a guide for a Silent Hill: Origins puzzle.
The Anatomy Puzzle is a puzzle in Silent Hill: Origins.
Scattered throughout Alchemilla Hospital's Otherworld, Travis Grady will find plastic organs. Within the examination room, there will be an anatomy model with an empty torso. The puzzle involves the five plastic organs which must be inserted into the anatomy model in a certain order. Doing so will allow Travis to obtain the glass eyes.
Solution
The hint to the insertion order is contained in a student's memo: "Inside Stevie, Little Henry Lurks". Note the first two letters of the words; it is the hint to the names of the organs:
In - intestine
St - stomach
Li - liver
He - heart
Lu - lungs
Thus the plastic organs must be inserted in this order: intestine, stomach, liver, heart, lungs. After the right insertion of all the organs, the model's eyes will open. Approach the model's head and take the glass eyes.
Trivia
When examined in the Otherworld, after the glass eyes have been obtained, the anatomy model will become a real corpse with missing eyes.