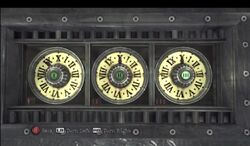 This article is a guide for a Silent Hill: Downpour puzzle.
In the Centennial Building, Murphy Pendleton comes across a large vault in the library archives, with a trail of footprints visible only with the forensic flashlight leading to it. In order to obtain a mandatory ID card that will allow him to reach the radio station on the 18th floor, Murphy must find the combination to the vault.
Because the lock always has the same combination, the player does not necessarily need to find the slides in order to enter the vault. However, the player still needs to travel through the entire level regardless, due to the elevator being stuck on the third floor, right past the mayor's office.
Solution
In the video archives in the room next to the vault, Murphy can follow another trail of footprints to a slide projector displaying an image of the mayor of Silent Hill sitting at his desk. In the mayor's office on the third floor is a box of projector slides. When inserted into the projector, the slides cycle through images of the clock tower, with the vault's combination being made up of the times displayed. No matter what the puzzle difficulty, the combination to the vault is the same, though the clues for determining the solution are different.
Easy/Normal
On Easy and Normal difficulties, the slides will show the clock stopped at 9:00, 6:00, and 1:00. Since the numbers on the locks go from 1 to 10, the combination for the safe is 961 (IX, VI, I).
Hard
On Hard difficulty, the images of the clock display the time as 1:45, 2:30, and 3:05. However, in this case, the necessary numbers are ones the minute hand is pointing to, rather than the hour hand. On the clock, 45 minutes is represented by 9, 30 minutes is 6, and 5 minutes is 1. Just like on Easy and Normal difficulties, the solution is 961 (IX, VI, I).
Gallery