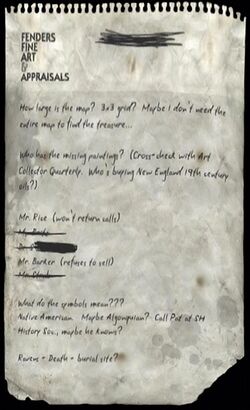 The Art Notes are located in Fenders Fine Art and Appraisals in Silent Hill: Downpour. Covering the research conducted by Melissa Matlan into the true meaning behind various oil paintings, these notes can be used to help guide the player when attempting "The Art Collector" sidequest.
Transcript
How large is the map? 3x3 grid? Maybe I don't need the entire map to find the treasure...
Who has the missing paintings? (Cross-check with Art Collector Quarterly. Who's buying New England 19th century oils?)
Mr. Rice (won't return calls)
________ ________
Mr. Barker (refuses to sell)
________
What do the symbols mean???
Native Americans. Maybe Algonquian? Call Pat at SH History Soc., maybe he knows?
Ravens - Death - burial site?
See also
Community content is available under
CC-BY-SA
unless otherwise noted.