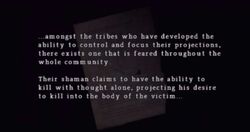 Astral Projection: The Perfect Assassin? is a torn page from a book, found in Silent Hill: Origins. Travis Grady can locate it along with another torn page in the library scene on the first floor stage of the Artaud Theater's Otherworld.
Transcript
"....amongst the tribes who have

developed the ability to control and

focus their projections, there exists

one that is feared throughout the

whole community.


Their shaman claims to have the

ability to kill with thought alone,

projecting his desire to kill into the

body of the victim..."

Community content is available under
CC-BY-SA
unless otherwise noted.