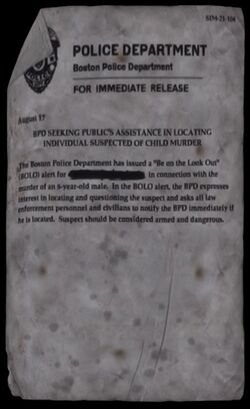 The BOLO Alert is found in Silent Hill: Downpour, on level A3 in the security room, inside a drawer in the Overlook Penitentiary. The alert issued is mostly likely relating to Patrick Napier and the murder of eight year old Daniel Stephens.
Transcript
POLICE DEPARTMENT
Boston Police Department
FOR IMMEDIATE RELEASE
August 17
BPD SEEKING PUBLIC'S ASSISTANCE IN LOCATING INDIVIDUAL SUSPECTED OF CHILD MURDER
The Boston Police Department has issued a "Be on the Look out" (BOLO) alert for _______________ in connection with the murder of an 8-year-old male. In the BOLO alert, the BPD expresses interest in locating and questioning the suspect and asks all law enforcement personnel and citizens to notify the BPD immediately if he is located. Suspect should be considered armed and dangerous.
Community content is available under
CC-BY-SA
unless otherwise noted.