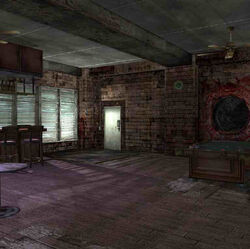 This article is a guide for a Silent Hill 4: The Room puzzle.
When Henry Townshend enters Bar Southfield, a door will be locked via keypad. A note in the bar gives a hint as to where to find the combination to open it.
"The boss said that the number this time is the last 4 digits of this store's phone number. But the phone number is written right there on the sign on the roof. Anybody could see it from South Ashfield Street. Is that really okay?"
If the player returns to Room 302, they can look out the window and see a large billboard advertising the bar, with the phone number below it. The phone number is 555-3750.
Punch 3750 into the keypad and the door will open.
In the second visit to the building world, the keypad will have a new combination. Once again, a bar memo provides a hint to the combination.
"The boss said we had to change our phone number 'cause all of the complaints about the weird noises. Now we have to change the store sign on the roof. What a pain. By the way, the number is the last 4 digits of the new phone number. Not too smart if you ask me..."
To find out the combination, return to the room and dial the original phone number, 555-3750, into the phone. A recorded message provides the new number: 555-4890.
Punch 4890 into the keypad to unlock the door once again.