Fire Emblem Warriors: Three Hopes - The Loop
Play Sound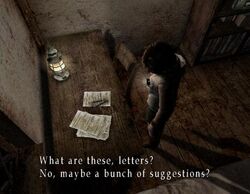 Believers' Complaints are a series of memos in Silent Hill 3. While exploring the chapel, Heather Mason can find these memos in the bedroom of Vincent Smith. The letters, written by a member of the Order identified only as "L.S.", clearly show that L.S. disapproves of Vincent's position as a pastor of the cult, since he has supposedly been using the money of the church for his personal benefit, although L.S. can't deny all that Vincent has done for the Order to grow.
L.S.'s identity is unknown, but it could be speculated to be Lillian Shepherd, who was part of the Order. Of course, Silent Hill 3 was released years before Silent Hill: Homecoming, so having Lillian Shepherd being L.S. wasn't the original intention of the Silent Hill 3 writers, but from a continuity perspective, it could work.
Transcript
"People are starting to voice their
dissatisfaction about Father Vincent
using the Organization's money for
his own personal benefit.
I've also heard rumors that Father
Vincent has been extorting donations
from some followers.
Is he really the right person
for such a position?
I'm in no place to deny all he's done
to make the Organization grow.
Even though we believe in God, if
there were some sort of gathering,
shouldn't we be valued not for our
limited talents or our talkativeness,
but for the depth of our faith?
L.S."