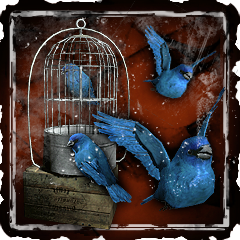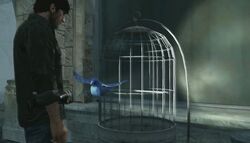 Bird Cage is a sidequest in Silent Hill: Downpour. The sidequest can be started when opening any of the five bird cages around Silent Hill.
Quest Solution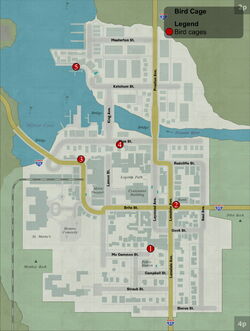 The quest consists of finding five bird cages around the town and setting the birds inside free. For every cage opened, one small flashback cutscene is revealed. These cutscenes show Murphy Pendleton walking through a flower-covered field to find his son under a tree. The birdcages can be found in the following locations:
Trivia
Murphy states in his journal that he pities the birds as he knows how it is to be locked up and restrained, therefore prompting him to release them from their cages.
There is a glitch that allows Murphy to reopen the cages, which causes a bird to appear and fly out of the cage.
Completing the sidequest unlocks the achievement/trophy "Birdman".
If the player opens a cage during heavy rain, some rain will appear in the field scenes. Afterwards, the rain in town will be gone; however, the monsters' numbers and aggression will remain high as if it were still raining heavily, and the player must run indoors to reset this.