The blood pack in Silent Hill
Description
"200ml blood pack. Found in the hospital storage room."
Purpose
Used to distract the blood-sucking tentacles in room 204, 2nd floor of Alternate Alchemilla Hospital.(Silent Hill)
Used to find the a secret ladder (Silent Hill 3)
Location
Shelf in the storage room, Alternate Hospital, 3F (Silent Hill)
Otherworld Brookhaven Hospital, 3F (Silent Hill 3)
Variants
Plastic bag (with blood)
Appearances
Silent Hill
Silent Hill 3
The Blood Pack and its closely-related variant are two items that can be found in Silent Hill and Silent Hill 3.
Silent Hill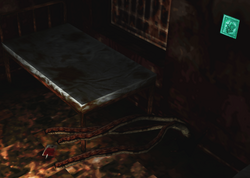 The Blood Pack is an item in Silent Hill. It is used to distract the Bloodsucker that prevents Harry Mason from getting the Plate of Hatter. It can be found on a shelf in the storage room in the alternate Alchemilla Hospital, 3F.
Silent Hill 3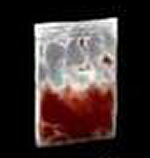 The Plastic bag (with blood) appears in Silent Hill 3. The plastic bag is received in the otherworldly Brookhaven Hospital and found in the trash bin of the 2F women's locker room. Heather Mason fills the bag with the dripping blood of a man hanged by his feet, who has a bucket placed below him, located in examination room 4 in 3F. The purpose of this item is to be used on an altar in Room C4 on the first floor in order to find Leonard Wolf.
Gallery
Community content is available under
CC-BY-SA
unless otherwise noted.