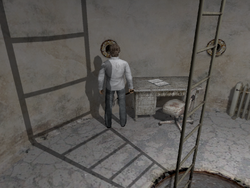 This article is a guide for a Silent Hill 4: The Room puzzle.
"
I'm a boy genius, and I figured out the answer to the surveillance room puzzle. It's light and water!
—Writing on a cell wall.

"
The Bloody Bed Puzzle is the first and one of the few puzzles featured in Silent Hill 4: The Room, encountered during the first visit to the Water Prison. The Water Prison is a cylindrical building featuring three circular floors with a total of eight holding cells each, the uppermost two of which can be rotated either way by accessing the central shaft and turning the valves on the 2nd and 3rd floors. By rotating these floors, cells will change position and become aligned with the other floor cells.
Before aligning the cells, the player should have already opened the water gate on the prison's roof to let light flow in.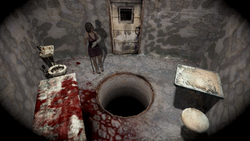 Henry Townshend must rotate the 2nd and 3rd floors in such a way that all three floors become aligned so that he can jump through the holes in each one and reach the prison's cafeteria. Henry can check current alignments through peepholes located in the central shaft after he turns the valves. As indicated by a memo found earlier, all he has to do is align the cells with bloodied beds one on top of the other. As noted, all bloodied-bed cells have holes in them. If a cell has blood in it but no blood on the bed, ignore it.
Stun Gun solution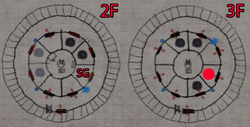 The player may opt to obtain the optional Stun Gun first.
On the third floor, turn right once.
Go to the actual third floor, jump down the red hole on the map (on the right).
Get the stun gun on the table and return to the valve room.
Solution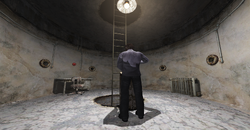 The fastest solution:
2nd floor: turn left or right 4 times
3rd floor: turn right twice (or once if you already obtained the Stun Gun)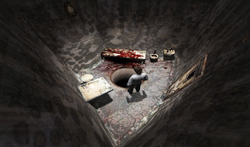 After aligning the bloodied-bed cells correctly, the player must head to the 3rd floor and jump through the hole in the correct room, which is ∠70 degrees on the map. Once in the now-lightened area, Henry will be able to see that the code to the door is "0302".