Blue Creek Apartments is a small apartment building in Silent Hill 2, built next to the Wood Side Apartments. The fire escape of the Wood Side Apartments was knocked down to make room for the Blue Creek Apartments. Access to the third floor is completely blocked off.
Access to these apartments can be found through the fire escape of the Wood Side Apartments and also in a small area located behind the Baldwin Mansion. The Blue Creek Apartments also exit to an alleyway that leads directly to Rosewater Park.
Silent Hill 2
Maria comes to the apartments to retrieve the White Chrism for Ernest Baldwin in the Born from a Wish scenario.
James Sunderland enters these apartments for his second encounter with Angela Orosco inside Room 109 and Pyramid Head on the staircase. In Room 203, James may put his hand in a filthy toilet, a small joke in the series, to obtain a wallet with a code on it that gives the player access to a safe, which contains five sets of handgun bullets. The Coin Puzzle can be found in a first floor inside Room 105 of this apartment containing the Lyne House Key that is needed to unlock Room 209.
Trivia
Whisper
The whisper heard in Room 209.
This area is the first to include an ongoing running gag within the franchise, having the player decide whether or not to stick their hand inside of something disgusting that most would avoid.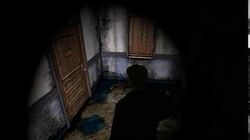 There are strange noises and sounds in the Blue Creek Apartments, such as a doorknob rattling by itself (Room 208), as well as someone running back and forth. In Room 209, there is a whisper that says something along the lines of "See my dead wife, come home to do some laundry..."[1][2] Other interpretations include:

"See my dead wife, I'll come home, load some laundry to escape, and maybe take her to the car so it takes some space."
"See my dead wife, come home, do some laundry, do some neatening, and continue to record some tapes of sayings..."
"...tombs of saints."

Room 109 will be inaccessible to the player until they complete certain things beforehand (meet Eddie, see Pyramid Head for the second time, retrieve the old man coin, etc). Attempting to enter earlier will result in James saying that there is a "force" keeping him from entering.
In an early trailer of the game, there is gameplay footage of James hiding in the laundry room from Pyramid Head as he drags his knife down the hallway. This was later removed in the final game, since the only time James finds Pyramid Head in the Blue Creek Apartments is during the boss fight. [3]

This may have been an early version of James's encounter with Pyramid Head in Wood Side Apartments in Room 307.
Gallery
Community content is available under
CC-BY-SA
unless otherwise noted.