The Book of Lost Memories
Description
"A book about the history and legends of this town and the surrounding area."
Purpose
One of four items needed for the "Rebirth" ending
Location
Texxon Gas Station, West South Vale
Appearances
Silent Hill 2
Silent Hill 2: Born from a Wish
This article is about the game item. For the guide released by Konami, see Book of Lost Memories. For the book as seen in Silent Hill 3, see Lost Memories (Silent Hill 3).
The Book: "Lost Memories" is a secret item found in the West South Vale area of Silent Hill 2 and is required for the "Rebirth" ending. It can only be unlocked after completing the game once and is found on a newspaper stand at Texxon Gas. Unlike most other memos, the book is an actual item appearing in James Sunderland's inventory. It gives backstory for the town of Silent Hill, Maine.
The book returns in "Born from a Wish" and Silent Hill 3, albeit different passages.[1]
Transcript
"The name comes from the legend
of the people whose land was
stolen from them.

They called this place 'The Place
of the Silent Spirits'. By 'spirits',
they meant not only their dead
relatives, but also the spirits that
they believed inhabited the trees,
rocks and water around them.

According to legend, this was
where the holiest ceremonies
took place.

But it was not the ancestors of
those who now live in this town
that first stole the land from these
people. There were others who
came before.

In those days, this town went by
another name. But that name is
now hopelessly lost in the veils
of time.

All we know is that there was
another name, and that for some
reason the town was once
abandoned by its residents."
Born from a Wish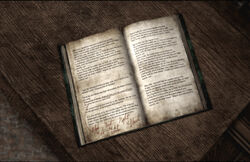 In the Born from a Wish scenario, Maria can read a memo titled Lost Memories in the Baldwin Mansion study. The memo reads:
"I have the strongest trust — you may
even call it faith — in the miracle
called 'Resurrection of the Dead'.

Upon the hill where
the light descended,
the Beast intoned his song.
With words of blood,
drops of mist and
the vessel of night,
the grave become an open field.

The people wept in fear and joy
at the reunion, but my faith in the
salvation of Xuchilpaba did not
waver.

It is also spoken of in the ancient
legends. The original worshipers
did not believe that death was the
end, but that it was simply the path
by which the deceased returned to
nature. They also believed the
process was reversible."

There is also a note written by Ernest Baldwin at the end of the memo that reads:
"Blood = Red
Mist = White
Night = Black"
Trivia
See also
Gallery
References