A book about the Otherworld
Description
"A big ol' book I got from Vincent in the archives."
Purpose
Informative reading
Location
Library, 1F Chapel
Appearances
Silent Hill 3
Otherworld Laws is a book received by Heather Mason from Vincent Smith near the end of her journey in Silent Hill 3. Vincent meets up with her within the library of the cult's chapel and gives it to her. The book appears large and likely describes the laws and effects of the Otherworld; however, Heather focuses on a specific section of the book that deals with the Seal of Metatron. Vincent most likely hands Heather the large book so that she may know what power the talisman she picked up previously holds.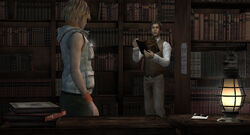 Transcript
"This magic square, with strong
protective and dispelling properties,
is called the 'Virun VII Crest' or
the 'Seal of Metatron.'
It will bring results regardless of
whether the target is good or evil;
its strength, therefore, places a very
high burden on the caster. As it is
also difficult to control, it is not
usually used.
This is why it bears the name
'Metatron', after the angel
Metraton (or Metatron), also
known as the 'Agent of God.'"
Gallery
Community content is available under
CC-BY-SA
unless otherwise noted.