Brahms is a small town neighboring Silent Hill, Maine, though it still falls under the Toluca County. It is first mentioned in Silent Hill, though chronologically it is first introduced in Silent Hill: Origins.
It also appears in the Silent Hill film where it is called Brahams for some reason. It is unknown if this is an intentional artistic choice or an error.
Silent Hill: Origins
Mentioned during the scene of Silent Hill: Origins, trucker Travis Grady is running late with a delivery and opts to pass through the town of Silent Hill as a shortcut, intent on stopping over in Brahms for a cup of coffee as soon as he reaches the town. However, an odd occurrence interrupts his trip, putting his plans on hold. Whether he makes it to Brahms for his cup of coffee is unknown. A sign passed by shortly before arriving at Silent Hill reads "Brahms 13 Miles", so it can be surmised that Brahms is about that far away.
Silent Hill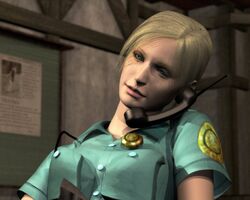 A police officer from Brahms, Cybil Bennett, is sent to Silent Hill to investigate the sudden lack of communication between her police precinct and the local law enforcement of Silent Hill. Like Travis, a series of strange events prevent Cybil from completing her task. However, once again it can be assumed that the town is not that far away, as Cybil intended to walk there.
When James Sunderland travels to Silent Hill, he abandons his car at the Observation Deck on Nathan Avenue, as he is unable to proceed on road due to a blocked tunnel. Above the tunnel is a sign that reads Brahms to be 265 miles away; which, many have speculated as being a typo, and that it should read 26.5 miles, (seeing as Cybil Bennett in Silent Hill said it was just "the next town over".) This theory may be debunked by the traditional ordering of locations, from nearest to farthest; since the sign reads Paleville to be 1 mile away, Old Silent Hill to be 50 miles away, and then Brahms to be 265 miles away. Assuming that Brahms was meant to read 26.5 miles, this should come before Old Silent Hill in the ordering of locations, as it's closer.
The most common belief is that Team Silent were looking to make the start of the game like a journey the player had gone too far down to turn back, so the town's notable neighboring districts were intentionally shifted by the town itself, as to give the feeling of total isolation.
When strange events begin to occur in the small town of Shepherd's Glen, a town also near Silent Hill, a trio of local residents, Alex Shepherd, Elle Holloway, and the deputy of the Shepherd's Glen Police Department, James Wheeler, set off to Silent Hill to try to get to the bottom of things. While traveling to Silent Hill, using a boat to cross Toluca Lake, Wheeler explains to the pair that before taking the job he holds in Shepherd's Glen, he had considered a position on the police force of Brahms, who, in the past, had a police officer, Cybil Bennett, disappear while on duty in Silent Hill. The only trace found of her, according to Wheeler, was her motorcycle.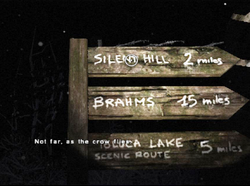 In Silent Hill: Shattered Memories, there is a sign in the Caldecotte Woods saying Brahms is about 15 miles away. It is seen right before the player reaches the cabin and right when Cybil calls Harry for the first time. Silent Hill is also shown on the sign saying it is 2 miles away from the spot. This is known to be the only reference to Brahms in Silent Hill: Shattered Memories.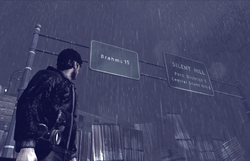 In Downpour, newspaper articles (Missing Child Article and Patrick Napier Article) imply that Murphy Pendleton lived in Brahms with his wife and son. However, other articles (Missing Child poster, Police Report and BOLO Alert) imply Boston, leading to ambiguity.
Brahms is indicated on several road signs found in Silent Hill, primarily in Pearl Creek and the Port District.
Seeking a way to help her troubled adopted daughter, Rose Da Silva is intent on taking the child to the town of Silent Hill, West Virginia, a place her daughter keeps mentioning in her sleep. En route, the pair stop in Brahms, (spelled Brahams here), for gas and directions to Silent Hill, West Virginia. A police officer, suspicious of Rose's actions, follows the mother and daughter to Silent Hill.
After Rose crashes her car and disappears into Silent Hill, her husband, Christopher Da Silva, attempts to follow. Reaching the same filling station Rose had, he inquires as to how one might reach Silent Hill. As he reaches the barricade set up to prevent access to the restricted town, Chris is introduced to detective Thomas Gucci. The pair proceed to explore Silent Hill, but turn up no trace of Rose or Chris's daughter, Sharon.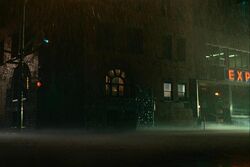 Frustrated from the lack of cooperation he is receiving from authorities, Chris takes it upon himself to investigate the town's past, and breaks into the Toluca County Archives, located in Brahams. Finding a picture of a girl identical to Sharon, Chris heads to the Toluca County Orphanage, where he and Rose had adopted Sharon. He questions the orphanage head, a Sister Margaret, but is interrupted by Detective Gucci before the Sister offers any insight into the situation. However, Gucci sits Christopher down, and explains a bit of the town's past to him, and offers him a choice: Chris can either go to jail, or head home. Chris leaves Brahams and returns home.
Trivia
Though mentioned in all of the above titles, the town of Brahms is only actually seen in the film. However, the film is not considered canon in relation to the games.
According to the film, one of the town's local newspapers is the Brahms Herald.
Brahm's Mansion is a maze in the second Castlevania game, another Konami game. The name is probably based on Bram Stoker, the author of Dracula.
Community content is available under
CC-BY-SA
unless otherwise noted.