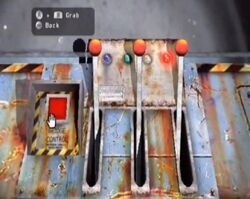 This article is a guide for a Silent Hill: Shattered Memories puzzle.
The Bridge Control is a puzzle found in Silent Hill: Shattered Memories. Harry Mason and Dahlia Mason are driving home when they have to stop due to the raised bridge. Harry exits the car, jumps the railing and ascends the ladder of the control tower on the right side of the road. Once in the maintenance room, he finds a control panel with three levers, four little lights and a red button on the left.
Solution
If Harry explores the room he can find a cabinet with a phone number inside (5553411). He needs to call this number to receive instructions on how to use the panel.
First, Harry has to press the red button ("Start"). The lights will start glowing, randomly and one by one. Each light has a lever movement associated:
Blue light: move the center lever.
Red light: move the left lever.
Green light: don't move any lever, just wait.
Yellow light: move the right lever.
The levers must be pulled entirely; if they are moved to a middle position it won't work. Then, when the four lights have glowed and the levers have been pulled, the bridge will start to lower.