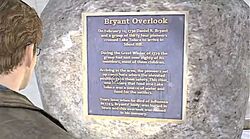 The Bryant Overlook Memorial is an engraved memorial stone found in Silent Hill: Shattered Memories.
The memorial is for Daniel R. Bryant, a pioneer who crossed Toluca Lake with thirty-four fellow pioneers in order to reach Silent Hill. Unfortunately, thirteen years after he crossed the river, he died of influenza, was buried in town and the aforementioned location was named after him. 
Transcript
"On February 12, 1730, Daniel R. Bryant

and a group of thirty-four pioneers

crossed Lake Toluca to arrive in

Silent Hill.


During the Great Winter of 1729, the

group had lost over eighty of its

members, most of them children.


Arriving in the area, the pioneers set

up camp here where the elevated

positions gave them safety. This river,

one of many that feeds into Lake

Toluca, was a source of water and

food for the settlers.


Years later, when he died of influenza

in 1743, Bryant's body was buried in

town and this overlook was named

in his memory."
Trivia
After staring at the memorial for about 2 seconds, Harry will say "I learn something new everyday."