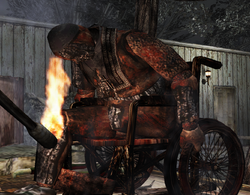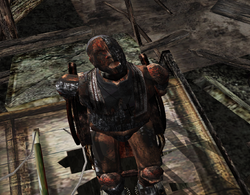 This article is a guide for a Silent Hill 4: The Room puzzle.
The Burned Doll Puzzle is a puzzle found in Silent Hill 4: The Room that Henry Townshend must solve to progress further into Walter Sullivan's Otherworlds. Henry encounters the puzzle during his second entrance into the Forest World. This time his neighbor Eileen Galvin has joined him, and Henry seeks to uncover the truth in Walter Sullivan's inner darkness.
Following Jasper Gein's death during the first visit to the forest, the Wish House Orphanage has burned down. Among the burned remains, Henry finds a wheelchair with the charred torso of a life-sized doll. Near the doll is a memo speaking of the doll and what lies beneath it. The memo reads:
"Though my body be destroyed,
I will not let you pass here.
To prepare for the Receiver of Wisdom...
I cut my body into five pieces and hid them in the darkness.
When my body is once again whole, the path to below will be opened.
If you are the Receiver of Wisdom, you will understand my words.
The ritual has begun..."
In order to access the basement area of the orphanage, Henry, as the "Receiver of Wisdom", must find the scattered parts of the doll, bring them back, and then re-attach them.
Solution
The memo with the doll speaks of "five pieces" that are hidden "...in the darkness." The five pieces referred to are the doll's missing limbs;
Scattered throughout the forest are five wells where the missing limbs can be found. The wells, however, are dark and the limbs unrecognizable, as hinted by the memo. In order to retrieve the doll parts from the wells, Henry must be carrying the lit torch with him, which will last longer if it is soaked in oil in the laundry room. The wells' locations according to the map are:
The well containing the Doll's Head is southwest of the orphanage, in the area adjacent to the cemetery.
The well with the Doll's Left Arm is northeast of the orphanage, in the area with the booby trap.
The well where the Doll's Right Arm is found is further northeast of the orphanage, near where Henry entered the forest in his first visit.
The well with the Doll's Left Leg is southeast of the burned orphanage, past the area with the strangely-rooted tree.
The well containing the Doll's Right Leg can be found in the area immediately northwest of the orphanage.
After collecting all the pieces and placing them on the charred torso, it will suddenly and briefly become animate, allowing Henry and Eileen to enter the basement of the orphanage.
Trivia