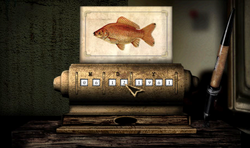 This article is a guide for a Silent Hill: Origins puzzle.
The Calendar Puzzle is a puzzle that can be found in Silent Hill: Origins. It is located inside the reception area of the Riverside Motel.
Solution
To complete the puzzle, the player must decipher a date from a series of items and locations.
The year can be obtained from Travis' lucky quarter, which has the number 61 marked on it. The number stands for the year 1961 (the year his father died).
By looking into one of the peepholes Travis eventually comes across, he'll see a circled date: 12, which represents the day in question.
The last clue needed can be found on a wedding ring, which reads "To my June bride", meaning six, as June is the sixth month of the year.
The entire date is: 6/12/1961.
After inserting the date, a slot will be revealed. After placing the wedding ring in it, the Room 500 key will fall out, so Travis can finally access the room where his father had hung himself.
Trivia
The idea of inserting the wedding ring in the slot is solely for purpose of not ending the location without meeting Michael Kaufmann and battling the Butcher, as experienced players could get the key immediately after entering the reception.