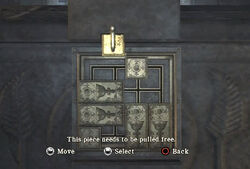 This article is a guide for a Silent Hill: Homecoming puzzle.
The Casket Lock Puzzle is a puzzle that can be found within Rose Heights Cemetery in Silent Hill: Homecoming. It is located in the Bartlett Family Mausoleum on one of the coffins. It must be solved in order to obtain the broken watch. The puzzle involves sliding six movable pieces, and once solved, the casket will open, revealing the watch hidden inside.
Solution
The sliding puzzle is comprised of seven movable pieces; six of those pieces need to be moved in order for the seventh piece, which is actually the pin, to be pulled down and release the casket's lid. There are a number of possible solutions to solve the puzzle; however, the two long pieces should be moved to the right side while the rest of the smaller pieces should be positioned to create a clear path for the pin.