Fire Emblem Warriors: Three Hopes - The Loop
Play Sound
The cassette from Silent Hill 3
Description
"There's no label, but the tab's been removed. It might be worth checking out." (Silent Hill 3)
"Audiocassette with 'Skinned Mike' on the label." (Silent Hill 4)
"It's an old cassette tape. The label's been ripped off." (Silent Hill: Homecoming)
Purpose
Can be used in tape deck on the 1F (Silent Hill 3)
Offers optional backstory (Silent Hill 4)
Can be used on the Shepherd family's answering machine (Silent Hill: Homecoming)
Location
A bedroom in the first corridor of the chapel (Silent Hill 3)
Room 205, Apartment World (Silent Hill 4)
Bathroom, 2F Shepherd House (Silent Hill: Homecoming)
Appearances
Silent Hill 3
Silent Hill 4: The Room
Silent Hill: Homecoming
The Cassette Tape is an optional item that can be picked up in Silent Hill 3, Silent Hill 4: The Room, and Silent Hill: Homecoming.
Silent Hill 3
Heather Mason can pick up an abandoned cassette tape from the desk in first bedroom of the cult chapel. It isn't necessary to pick up the cassette tape; however, Heather can listen to it using the tape deck in another room on the first floor. The contents of the tape help to get a better understanding of the cult's teachings and members, specifically Vincent Smith. It contains a discussion between Vincent and an unknown female cult member.[1]
Dialogue
Vincent: Do you know about what happened here 17 years ago? You've been here a long time, you must have heard some details.
Woman: A group of pagans, blinded by earthly desires, spit in the very face of God. They tried to use the Seal of Metatron to prevent God's awakening. But God drove the unbelievers away and threw them into the Abyss. But due to their wickedness, God was unable to be born properly. And so she has slumbered ever since, in the womb of the Holy Mother. Until the time of the Awakening... That's all that I know.
Vincent: That's it, huh... Well, thanks.
Woman: Father Vincent. I heard that the Holy Mother has been found. Is this true?
Woman: Yes.
Vincent: Then is must be true. Her Sight rarely fails her.
Woman: Bless the Lord!
Vincent: Maybe it's because of her great faith. But I could never be like her. I wouldn't want to.
Woman: Nor I. The truth is, Sister Claudia frightens me a little.
Vincent: Well now, let's both show our faith by forgetting about this little talk. Okay?
Woman: Yes. But does that mean that this land will finally be the Home of Eternal Paradise?
Vincent: If God wills it, my sister. If God wills it.
Silent Hill 4: The Room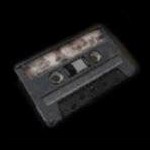 The cassette tape is labeled "Skinned Mike" and is found in Room 205 in the Apartment World. It adds backstory to Richard Braintree and Mike. To play it, Henry Townshend must go to Room 302 and put it into his radio.[2]
Dialogue
Richard: How do you like that, you sick little freak? You had it comin' to you! These clothes are disgusting. Get 'em outta my sight!
Woman: I know... It'll be perfect to wrap his body in.
Drunk man: Hold it. Hold it... I think I'll keep that one for myself.
Richard: You!! You snoopin' around again?! Get your ass outta here before you really piss me off!
Drunk man: Hold it. Hold it. Hold it! I think I'll keep that one for myself. Hold it, I think I'll keep that one for myself.
Silent Hill: Homecoming
Alex Shepherd can pick up a cassette tape in the second floor bathroom of the Shepherd House. While it is not a necessary item, the tape does offer insight into the relationship between Alex, his brother Joshua, and their father Adam. The tape can be played on the answering machine found on the kitchen counter. In the recording, the Shepherd boys pretend to host a radio show, until they're interrupted by their father. Adam tells Alex to leave then proceeds to chide Joshua for participating in this foolishness with his brother.[3]
Dialogue
Joshua: *introduction sounds*
Adam: Josh. Josh! What are you doing?
Alex: Relax, Dad. We're just making a radio show.
Adam: Alex, go downstairs.
Alex: Why?
Adam: Just do it!
Alex: Fine! *slam*
Joshua: Am I in trouble?
Adam: No, of course not.
Joshua: Why are you yelling?
Adam: I'm not yelling at you. Listen to me Josh, don't you think this is a little too silly for you? Do you wanna end up like Alex, playing all this make-believe?
Joshua: I don't know.
Adam: Alright, from now on just let Alex play with his own friends, okay. If you need a friend you can talk to me, got it?
Joshua: Yes, sir!
Gallery