The Cat House is a brothel that Harry Mason can enter in Silent Hill: Shattered Memories. Depending on Harry's Psych Profile, the name may change to The Honey Trap or Oriental Lotus; the appearance is also subject to change. It can be accessed by jumping across from the second floor roof of Wonderland Burger or from the street at ground level.
The second floor contains a room with children's drawings on the wall, and a hallway with a memento in a box. On the first floor, there are many paintings of women in corsets with butterfly wings. An echo message can be obtained by photographing the ghost on the couch.
Phone number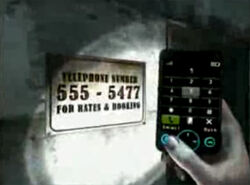 Hi, this is the Cat House! Gentlemen, do we have some nasty females for you! They're caged and in heat. Yours to do with as you want. Forty-five minutes with one of our cats is just $200. For $300, she's yours for one and a half hours. Your money assures her obedience.
Hi, this is Candy at the Honey Trap. If you're looking for a once in a life time experience, every night of the week, this is the place to be. Our girls are handpicked for their unparalleled beauty and their dedication to the arts of pleasure. For forty-five minutes with a Honey Trap beauty, the charge is $300. This does not include drinks. We offer a member's deal with awards discount and priority booking. Ask about it on your next visit!
This is the Lotus Health Club. We offer many services to our clients who wish to get world-class relaxation and healthy treatments. Forty-five minutes with a masseuse will cost $200. For $300, you get a premium massage and service. All rooms have showers and privacy is assured.
Trivia
Gallery