The Channeling Stone in Silent Hill
Description
"A mystical stone possessing power. If used somewhere the result will be...?"
Purpose
Required for UFO ending and Joke ending
Location
Convenience Store 8 (Silent Hill)
Observation Deck (Silent Hill 2)
Appearances
Silent Hill
Silent Hill 2
Silent Hill: Book of Memories
The Channeling Stone, known as the Blue Gem in Silent Hill 2, is an optional item in Silent Hill and Silent Hill 2 that can be found after completing the game at least once and is required to receive the UFO ending.
In Silent Hill 2, it is only available after beating the main scenario and the Born from a Wish sub-scenario.
Silent Hill
The Channeling Stone can be found in Convenience Store 8 on Bachman Road, located in the north area of Old Silent Hill. The item is only available after beating the game, saving the completed game file, and then playing a "New Fear" game after getting a Good+ ending. The stone must be used in all of the following five locations for the UFO ending to play:
Otherworld Alchemilla Hospital gates (prior to the Floatstinger boss fight)
Norman's Motel parking lot in Resort Area
Boat (prior to the Lighthouse)
Lighthouse roof
Silent Hill 2
It can be found by one of the stalls in the Observation Deck restroom when both circumstances have been met. The Blue Gem can be used to attain one of the game's secret endings. James Sunderland must use the gem in the following locations in the following order for the ending to be unlocked:
Otherworld Brookhaven Hospital, garden, immediately following the fight with Flesh Lip.
Beside the small row boat on the Toluca Lake dock, after the fight with Eddie Dombrowski.
Lakeview Hotel, Room 312, before watching the videotape.
Silent Hill: Book of Memories

It is also an artifact in Silent Hill: Book of Memories; It is required along with the White Feather and the Dog Tag to unlock the Joke ending. It doesn't affect stats. It is described as, "A medallion with a deep blue stone inset, which produces a constant hum."
It is found Zone 22+ (rooms) and Zone 25+ (shop for 3,200 MR).
Trivia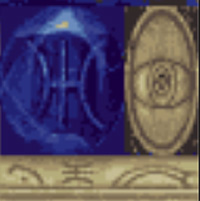 Silent Hill 4: The Room was originally supposed to have included the Channeling Stone, and the texture files can still be found on the disc. The item description reads, "Stone imbued with a strange power." The item's model and texture files are located in the same file with the hidden back room area of Room 302, suggesting that the Channeling Stone was supposed to be found there. The player would supposedly find a Dirty Stone, and by washing it in the sink, it would become the Channeling Stone.[1]
The symbol on the stone is the same as one on a supposed UFO seen in Spain in the '60s, apparently piloted by beings from the planet UMMO. It is also similar to the alchemical symbol for the planet Uranus (♅).
Gallery