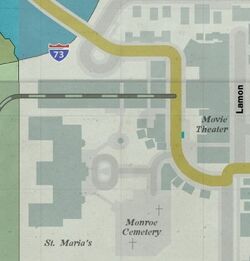 Chastain Heights is an area in Silent Hill that Murphy Pendleton can visit in Silent Hill: Downpour. It is located in the southeastern section of the game and consists of the neighborhood to the west of the Centennial Building.
Silent Hill: Downpour
The most prominent landmark is St. Maria's Monastery, where Murphy Pendleton is directed to visit upon receiving a letter from Howard Blackwood after escaping the Centennial Building's Otherworld. Other notable locations in the area include the Chastain Heights Cinema, Monroe Cemetery, the Hardware Store, the Thrift Store, and a house where a grisly murder took place.
Gallery
Community content is available under
CC-BY-SA
unless otherwise noted.