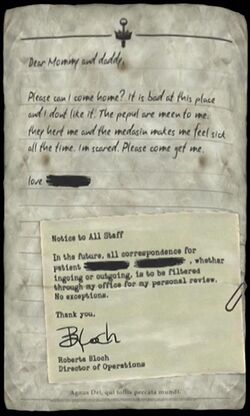 A Child's Letter Home can be found on a desk in a classroom of the first floor of St. Maria's Monastery in Silent Hill: Downpour. The letter is clearly a child's letter of distress that the staff intercepted and didn't want getting into its rightful hands.
Transcript
Dear Mommy and daddy,
Please can I come home? It is bad at this place and I dont like it. The pepul are meen to me. they hert me and the medasin makes me feel sick all the time. Im scared. Please come get me.
love _____
[Attached note]
Notice to All Staff
In the future, all correspondence for patient ______ ______, whether ingoing or outgoing, is to be filtered through my office for my personal review. No exceptions.
Thank you,
Roberta Bloch
Director of Operations
Notes
Although the letter is rife with childlike misspellings, the handwriting itself doesn't look very childish.
The name Roberta Bloch may be a reference to Robert Bloch, American crime writer and author of Psycho.
Community content is available under
CC-BY-SA
unless otherwise noted.