Description
"A gas-powered portable circular saw. This could really cut someone to shreds."
Location(s)
Shepherd House garage
Appearances
Silent Hill: Homecoming
Silent Hill: Book of Memories
The Circular Saw is a special weapon made available in Silent Hill: Homecoming. The saw is specifically designed as a portable woodcutting tool, but also makes an excellent weapon, especially since the safety lid has been removed from it. It can be found sitting in the Shepherd House garage, near the steel pipe, but only if the game has been cleared once before.
It has a very short range, but is quite useful against slower enemies. It can decapitate Lurkers in a single swing. By charging an attack, it becomes possible to impale a foe and instantly kill it, providing that the long wind-up for the attack is not interrupted. When not in use, the Circular Saw idles at a low volume, but when charging and slicing, it emits a very loud and annoying sound, which disturbs the naturally quiet environments within Silent Hill and Shepherd's Glen.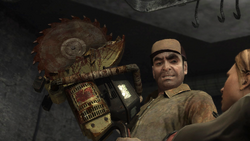 This saw is somewhat of a signature weapon for Curtis Ackers. He is seen several times in the game wielding this tool, particularly in the final act. Alex Shepherd is forced to fight Curtis in order to save Elle Holloway. He wields his circular saw with deadly efficiency. Curtis is also seen holding this weapon while in his Order Soldier uniform, which is the main clue to his identity at the time. It is unknown where he got it, but it can be assumed it was in his junkyard.
Trivia
Obtaining the Circular Saw unlocks the achievement Rising Tension. This is a nod to the film High Tension, in which the killer in the film's climax wields the circular saw and brutally kills a man with it.
Alex can still dodge and roll with the Circular Saw equipped.
Community content is available under
CC-BY-SA
unless otherwise noted.