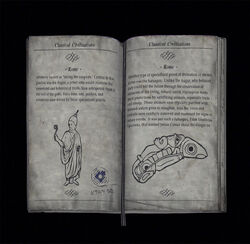 Classical Civilizations is a book that Murphy Pendleton can find in the Centennial Building library, on the 1st floor, in Silent Hill: Downpour.
Transcript
... ceremony known as "taking the auspices." Central to this practice was Auger, a priest who would examine the movement and behavior of birds, then extrapolate from it the will of the gods. For a time, war, politics, and commerce were driven by these specialized priests.
Another type of specialized priest of divination in ancient Rome was the haruspex. Unlike the Augur, who believed they could tell the future through the observation of elements of the living, natural world, Haruspices made their predictions by sacrificing animals, especially birds and sheep. These animals were typically purified with blessed waters prior to slaughter, then the livers and entrails were carefully removed and examined for signs of future events. It was just such a haruspex, Titus Vestricius Spurinna, that warned Julius Caesar about the danger on-
Gallery
Community content is available under
CC-BY-SA
unless otherwise noted.