Clear Picture is a photo/electronics store that Harry Mason can enter in Silent Hill: Shattered Memories. When he reaches the streets of Silent Hill, he can choose to enter either Clear Picture or Theresa's, a dress shop.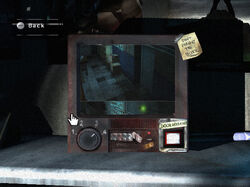 When he enters the store, he finds the door behind the counter locked. He must go to the employee area, where there is a closed-circuit TV monitor. He solves the puzzle by switching the channel to the screen with the door, then buzzing it open. There is an answering machine message the player can listen to at the counter, and an Echo message near a TV set.
Community content is available under
CC-BY-SA
unless otherwise noted.