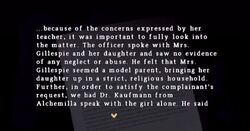 The Closed Case memo from Silent Hill: Origins can be found in the Public Records Office. It refers to an unspecified complaint (from an unknown source, possibly K. Gordon) regarding Dahlia Gillespie's treatment of her daughter, Alessa Gillespie. Investigation into the matter by both an unnamed officer and Dr. Michael Kaufmann resulted in the dismissal of the complaint on the grounds that no evidence of any mistreatment of the child was found by either the officer or the doctor.
Transcript
"...because of the concerns expressed

by her teacher, it was important to

fully look into the matter. The

officer spoke with Mrs. Gillespie

and her daughter and saw no

evidence of any neglect or abuse.

He felt that Mrs. Gillespie seemed

a model parent, bringing her daughter

up in a strict, religious household.


Further, in order to satisfy the

complainant's request, we had

Dr. Kaufmann from Alchemilla speak

with the girl alone. He said that

any talk of rituals or cults were

simple 'childish fantasies'. Mrs.

Gillespie's only crime, in his eyes,

was having read her daughter too many

fairy tales. We have closed the complaint."