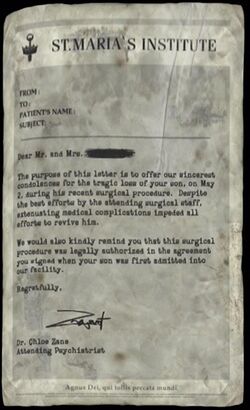 The Condolence Letter is found on a coffee table in the restroom on the second floor of St. Maria's Monastery in Silent Hill: Downpour. It is signed by Chloe Zane and is to the parents of a boy who tragically died during a surgical procedure where all attempts to revive him failed.
Transcript
ST. MARIA'S INSTITUTE
From:
To:
Patient's Name:
Subject:
Dear Mr. and Mrs. ________
The purpose of this letter is to offer our sincerest condolences for the tragic loss of your son, on May 2, during his recent surgical procedure. Despite the best efforts by the attending surgical staff, extenuating medical complications impeded all efforts to revive him. We would also kindly remind you that this surgical procedure was legally authorized in the agreement you signed when your son was first admitted into our facility.
Regretfully,
Dr. Chloe Zane
Attending Psychiatrist
See also
Community content is available under
CC-BY-SA
unless otherwise noted.