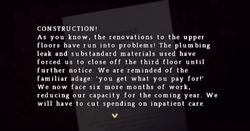 The Construction Notice is a notice Travis Grady finds in Silent Hill: Origins. Travis can find the note in the first floor lounge area of Alchemilla Hospital. It details the construction being done to the hospital and an upcoming staff party.
Transcription
"CONSTRUCTION!


As you know, the renovations to the

upper floors have run into

problems! The plumbing leak and

substandard materials used have

forced us to close off the third

floor until further notice. We are

reminded of the familiar adage:

'you get what you pay for!' We now

face six more months of work,

reducing our capacity for the coming year.


We will have to cut spending on inpatient

care and consultancy fees by 50%! Therefore

we ask doctors to refrain from committing

patients and encourage home stays instead.

Unless they are dying in your arms,

don't book 'em in!


STAFF PARTY!

Worry not! The staff party is still on

(our recreation budget is locked away where

no one can tamper!). Everyone meet at Annie's Bar

at 8pm on Friday. Alcohol (medicinal of course!)

and food will be free. Arrive early to grab a trainee nurse;

they go quick!"
Community content is available under
CC-BY-SA
unless otherwise noted.