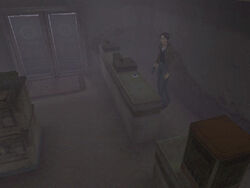 Circle 8 Convenience Store is located on Bachman Road, in the north area of Old Silent Hill. It is labeled on the game map as "Convenience Store".
The door is slightly ajar, and Harry Mason can enter this store to find a notepad to save the game, and there are also health items on the shelves.
Once the player has completed the game with the Good+ ending and started over again, they can return to the convenience store to find the Channeling Stone located behind the counter.
Trivia
Gallery
Community content is available under
CC-BY-SA
unless otherwise noted.