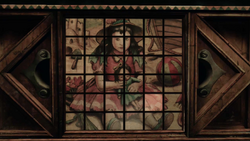 This article is a guide for a Silent Hill: Downpour puzzle.
The Cottage Puzzle is a puzzle encountered by Murphy Pendleton in Silent Hill: Downpour. It is a locked chest with a type of jigsaw puzzle that serves as the lock. It can only be found after completing the Hansel and Gretel Puzzle in St. Maria's Monastery.
Solution
This jigsaw puzzle is solved by rotating the different squares either to the left or right to choose the right image; each square only has three images to choose from. The puzzle, despite becoming more difficult to solve on different levels, only has one solution. It is a square picture, but in each level, the number of movable squares changes like so:
Easy - 4x4 puzzle; 16 squares.
Normal - 5x5 puzzle; 25 squares.
Hard - 6x6 puzzle; 36 squares.
The puzzle is easiest to solve in its entirety by solving small portions, or checkpoints, within the picture. These are as follows:
Sandcastle and shovel in the top left corner.
Boat in the top right corner.
Red and white ball on the right side.
Doll in the center of the picture.
For reference, use the image shown above.
Once these are solved, they prove helpful in completing the puzzle. When the puzzle is completed, the chest opens, containing a blackboard eraser and part two of The Bogeyman Rhyme.
Trivia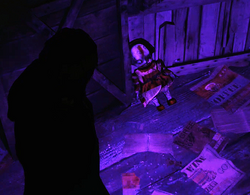 There is a doll similar to the one that the girl holds on the cabin chest picture but with a knife. It is located in the belfry tower under the stairs.
Gallery