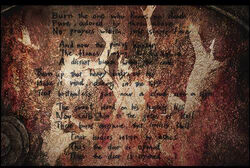 The Crematorium Door Engravings are engravings that appear in Silent Hill 3. Heather Mason can find them on the door of an oven in the crematorium of the Otherworld Brookhaven Hospital. The door is also adorned with a drawing of four people being burned.
Reading it carefully will help the player on how to solve the Crematorium Puzzle in order to open the previously locked door and obtain the cremated key, thus progressing further into the game.
Transcript
"Burn the one who knows no death
Pure, adored by those above
No prayers within, just simple love
And now the pining hunter
The flames longing for his rebirth
A distant breath within the earth
Burn up that heavy body of his
Make it wind, dancing in the sky
That bottomless gut now a cloud,
now a sigh
The sweet blood on his laughing lips
Now calls him to the gates of Hell
There burns evermore that soulless shell
Four bodies return to ashes
Thus the door is opened
Thus the door is opened"
Community content is available under
CC-BY-SA
unless otherwise noted.