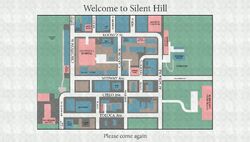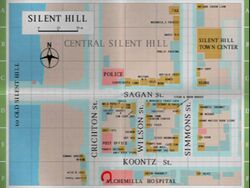 Critchton Street is a road in the western part of the Central Silent Hill section of Silent Hill, seen in Silent Hill: Origins, Silent Hill, and Silent Hill: Homecoming. Crichton Street connects Sagan Street, Koontz Street, Midway Avenue, Cileo Avenue, and Riverside Drive.
Silent Hill: Origins
After Travis Grady passes out in front of the Gillespie House, he wakes up on a bench on Crichton Street. Remembering what happened the previous night and the mysterious girl that he saved from the fire, he decides to visit Alchemilla Hospital to check if she is there. Later, Travis visits Crichton Street a second time when he is heading toward Riverside Motel. However, due to a large hole in the street, he is forced to enter the general store to bypass the obstacle.
Trivia
A majority of the street names used in the Silent Hill franchise are named after specific real life people. Crichton Street was most likely named after the author and screenwriter Michael Crichton.