The Da Silva House is the home of Rose, Chris, and Sharon Da Silva in the Silent Hill film. The house is located in the city of Sidney, Ohio, presumably not far from the West Virginia border, as it takes Rose less than a day to drive there and Sharon was adopted from the Toluca County Orphanage, which is also located in West Virginia. According to Rose's driver's license, the house's exact address is 5510 Campbell Rd.
Design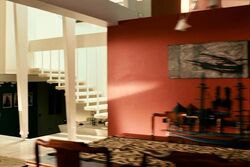 The Da Silva house is located on a hill near a densely wooded area. A road is nearby, followed by a steep cliff with a roaring waterfall. The house itself is expensive and ornate, containing many lavish furnishings and paintings. Most of the home follows a white coloration theme, though one of the walls in the dining area is painted orange.
Silent Hill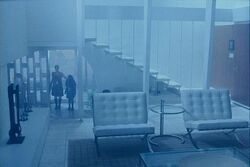 Rose returns home with Sharon, who is implied to have recombined with Alessa Gillespie. Rose and Sharon/Alessa walk hand-in-hand into their home, and Rose sits down and stares passively into space while her daughter explores her home. Though Rose is home now, she is still in the Fog World, while Chris is in the Real World and cannot see her or Alessa. Chris awakens and senses something amiss. He finds the front door has mysteriously opened and runs outside to check the driveway for Rose's car. When he finds nothing, he walks back into the house, saddened.